Dispelling Common Myths About Mediation
July 7, 2023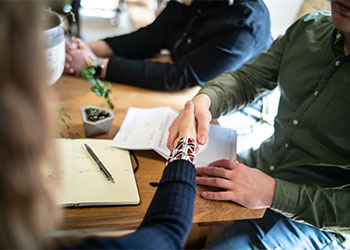 Divorce mediation provides an avenue for couples involved in a marital dissolution or disagreement to discuss the issues and reach a feasible resolution. Over the years, many estranged couples have been able to achieve a quick, cost-efficient, and fair divorce process through mediation. However, notwithstanding the record of success, there are several false assumptions and collective popular opinions that cause divorce mediation to be seriously underused.
Attorney Joseph DeWoskin has devoted his career to advising and guiding individuals and couples through the complex procedures involved in divorce mediation. As an experienced Kansas divorce mediation attorney, Joseph can educate you about the legal procedures involved in divorce mediation and help clarify some of the myths and misconceptions surrounding the process. The firm is proud to serve clients across Kansas City, Leavenworth County, Johnson County, and Wyandotte County, Kansas; as well as Jackson, Platte County, Clay County, and Cass County, Missouri.
What is Divorce Mediation?
Divorce mediation is an alternative dispute resolution method that is often employed by couples going through a marital dissolution. In divorce mediation, the estranged spouses will meet with a mediator or mediation attorney to voluntarily discuss the issues, settle divorce issues, and reach a feasible resolution. All terms agreed upon by both parties during the divorce mediation will be presented to the court for approval and shall remain legally binding.
Common Misconceptions about Mediation
As mentioned earlier, there are numerous of misleading information surrounding divorce mediation, which prevents many couples from taking full advantage of the process. As a result, divorce mediation attorneys in Kansas must properly educate their clients about how mediation works, how to prepare for it, and what to expect at the end. Joseph A. DeWoskin, PC works to give you the best preparation possible. Below are some common misconceptions about divorce mediation and a brief explanation of why they're not true:
Misconception #1: You don't need a lawyer for mediation.
This is a common misconception that is often not true. Having an attorney on your side during mediation can make the entire process even more seamless and efficient. Your attorney can help review the proposed settlement terms, make sure your rights are well-protected, and keep the conversation focused.
In addition, your divorce lawyer can help you overcome emotions during negotiations and ensure that you reach a full settlement agreement and all documents are properly signed. With an experienced attorney on your side, you can have the confidence and peace of mind you need during divorce mediation.
Misconception #2: Mediation agreements aren't enforceable.
This is not true. All terms that are reached or agreed upon during the divorce mediation must be accurately written and properly documented. Also, both parties must sign the agreement to show their approval. Once signed and approved by the court, the settlement agreements reached will be considered legally binding, valid, and enforceable.
Misconception #3: Mediation is the same as arbitration.
Divorce mediation isn't the same as arbitration. In divorce mediation, estranged couples will come together to discuss marital issues with the assistance of a neutral third party. The mediator will help negotiate a feasible settlement and reach a peaceful resolution.
In contrast, settling divorce issues through arbitration will require the estranged partners to submit testimony and evidence about the disputes to one or more arbitrators. The arbitrators will evaluate all the presented evidence and make a binding decision on the divorce issues.
Misconception #4: Mediation is pointless unless a settlement occurs.
Divorce mediation can take several hours, days, or sometimes weeks to reach an agreement. However, even if the estranged couples do not reach a feasible resolution, mediation will still allow them to understand the strengths and faults of their divorce case.
Also, mediation will make them understand their estranged spouse's motivations and interests and what is required to resolve the divorce issues. Provided the divorcing couples participate in mediation honestly and in good faith, it can place them on the right path toward a potential resolution.
Misconception #5: Asking for mediation is a sign of weakness.
This is another common misconception. The purpose of divorce mediation is to help couples achieve a peaceful compromise while offering a fast and efficient divorce. Also, mediation leaves room for possible reconciliation while eliminating grudges and conflicts. Thus, asking to resolve your divorce issues through mediation should never be perceived as a sign of weakness.
Misconception #6: Mediation doesn't really work.
This is not true. Many estranged couples who have fully utilized mediation have been able to successfully settle their divorce issues. According to the American Arbitration Association, mediation has provided a very high success rate in helping disputing parties reach a complete or partial agreement. Therefore, provided that the divorcing couples are ready and keen to reach a compromise, mediation will work for them.
Misconception #7: Mediation is only for divorce and family law cases.
This is another mistaken belief. Mediation isn't only for family law and divorce-related cases. You can use mediation to settle various issues, including disputes involving business partners, neighbors, landlords and tenants, and labor unions. Also, mediation can be very helpful in settling personal injury claims, business disagreements, workers' compensation benefits, contract disputes, and wrongful death claims.
Get the Answers to Your Important Questions
Resolving divorce issues is never easy and often involves a lot of complex processes. Thankfully, mediation allows estranged couples to meet, discuss issues, and negotiate a feasible settlement. Attorney DeWoskin is dedicated to offering reliable guidance and advocacy to clients in family law and divorce-related matters. Joseph can guide you and your estranged partner through the divorce mediation process, help protect your interests, and attempt to achieve a peaceful compromise.
Contact Joseph A. DeWoskin, P.C. today to schedule a one-on-one consultation with a dedicated divorce lawyer. Attorney Joseph DeWoskin can offer you the support and personalized legal guidance you need to make your transition as seamless as possible.