Is Mediation Binding?
July 7, 2023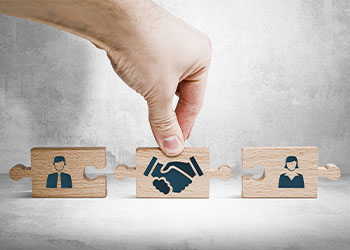 Mediation is among the effective methods through which disputes between two or more parties or entities can be resolved amicably. Essentially, mediation requires the disputing parties to work together with a neutral third party who will help them negotiate workable settlement terms and eventually reach a feasible resolution. However, all terms agreed-upon during mediation must be accurately documented, properly signed, and presented to the court for official approval.
Attorney DeWoskin is committed to offering reliable advocacy and comprehensive guidance to clients in the legal matters of alternative dispute resolutions, including divorce mediation and arbitration. As a seasoned Kansas divorce mediation attorney, Joseph is available to discuss your unique situation and enlighten you about the benefits of settling disputes through mediation.
In addition, Attorney DeWoskin can guide you through the mediation process and ensure that all your agreements are legally binding and enforceable. The firm proudly serves clients across Kansas City, Johnson County, Leavenworth County, and Wyandotte County, Kansas; as well as Jackson County, Cass County, Clay County, and Platte County, Missouri.
What Is Divorce Mediation?
Divorce mediation can be described as a process that allows couples involved in a marital dissolution to meet with a neutral third party (a mediator or mediation attorney) to settle their relationship differences and divorce issues and eventually reach a voluntary agreement.
In divorce mediation, the divorcing couples will gather information, identify and settle unresolved issues, negotiate the terms of the divorce, and hopefully reach a settlement agreement. Generally, divorce mediation offers a quick, peaceful, and cost-effective way to settle divorce-related matters.
How Is It Beneficial?
Divorce mediation offers many benefits:
It is faster and less expensive when compared with litigation or going to trial.

It helps divorcing couples keep their affairs private.

It helps improve communication between the divorcing spouses.

It allows divorcing couples to resolve all divorce-related issues amicably.

It helps divorcing couples keep their interactions respectful and productive.

It helps prevent or mitigate potential grudges and conflicts.

The estranged partners can retain total control over the divorce process and its outcome.
A trusted divorce attorney can evaluate your unique situation to determine whether divorce mediation is right for you and guide you through the legal procedures involved.
Who Should Consider Mediation?
Furthermore, divorce mediation may be right for you if the following is true:
You and your spouse agree to the divorce.

You want an efficient and fair divorce process.

You want to leave room for reconciliation.

You want a collaborative divorce.

There is no history of domestic violence or deception in your marriage.

You and your spouse are forthcoming about your finances.

You agree on the terms of child custody and support.

You want a hassle-free divorce and transition for your family.
If you're considering divorce mediation and you want to understand the process, you need to reach out to an experienced mediation lawyer right away. Your legal counsel can fully explain the entire divorce mediation process and improve your chances of a successful outcome.
What Is the Mediation Process?
Mediation isn't a one-size-fits-all process. The procedures often change sometimes depending on the surrounding circumstances. Regardless, here's what you can expect during a typical divorce mediation:
The spouses will first meet together with the mediator or mediation attorney.

The mediator will explain the mediation process to both parties while making them feel relaxed and comfortable.

The mediator will ask the divorcing couples to introduce themselves.

The mediator will encourage the divorcing spouses to remain professional, respectful, and civil. In addition, they're not allowed to interrupt when the other person is talking.

The mediator will organize a private session for each party to discuss privately with the mediation attorney in a separate room.

The mediator will ask each party to explain the divorce issues and relationship differences from their perspective and state their position.

The mediator will ask each party to propose a settlement offer and counteroffer while considering their estranged partner's position.
Mediation can take a couple of hours, several days, or even weeks. If the divorcing couples are able to reach a resolution, all terms agreed upon will be properly documented, signed, and presented to the family court for official approval.
Is Mediation Legally Binding?
Yes, mediation agreements are legally binding and enforceable in Kansas. However, for the agreement to be valid and binding, the following conditions must apply:
All terms must be voluntarily agreed upon by the estranged spouses.

All agreed-upon terms must be properly written or documented.

Each party must indicate their approval by signing the settlement agreement.
Once both parties sign the mediation agreements, the divorce terms will remain legally binding and enforceable. A trusted Kansas mediation attorney can help protect your legal rights and keep the conversation productive and on track.
Work Towards a Peaceful Resolution
Divorce mediation aims to help estranged couples settle disputes, resolve divorce issues, and achieve a feasible compromise. However, understanding the benefits, process, and what to expect is important to ensure a successful divorce mediation. Attorney DeWoskin has the diligence and expertise to advise and guide couples through the complex procedures involved in divorce mediation.
Using his extensive knowledge as a mediation attorney, Joseph will work to understand your unique circumstances and walk you through every phase of the divorce mediation process. In addition, Attorney DeWoskin will advocate for your best interests, keep the conversation focused, and work intelligently with all parties involved to achieve a peaceful resolution.
Are you considering divorce mediation? Contact Joseph A. DeWoskin, P.C. today to schedule an initial consultation with a trusted divorce lawyer. Attorney DeWoskin can offer you the personalized attention and detailed legal counsel you need in your divorce mediation.